Beyond the Threshold was WIDB's punk show that ran between 1985 and 1987. The show featured punk and hardcore, but also played plenty of garage rock, surf, and assorted other weird garage sale record finds. The first year the show ran after Midnight on Thursdays for an hour, but for it's second year it graduated to the Friday 8PM slot and picked up a second hour. Once host Dave Landis graduated the show was retooled by co-host Dale Gardner under the name Threshold Bowl-a-rama and ran for another 2 years with new co-host Frank Simpson.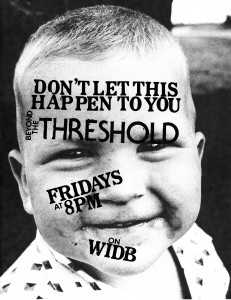 [ click picture to enlarge ]
These two flyers were both in the era before home computer graphics programs, done by hand using Zip-a-tone dry transfer letters and pictures from an old Life Magazine.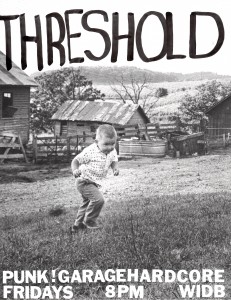 [ click picture to enlarge ]