6/27/15 Giant City State Park, Makanda, IL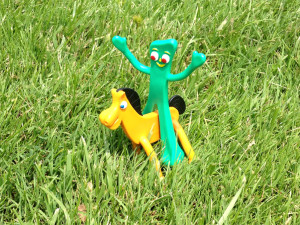 Gumby Celebrates Loss
For the first time in almost two decades weather conditions were pleasurable at
Picnic Area 5(1) Ballpark for the quin-annual 16 inch softball grudge match.
Teams featured were the league leading Pokeys and the In Da Basement Gumbys.
The grandstands were packed and a full seven inning regulation event began with a severely abbreviated national anthem and verbal fireworks.
The Pokeys took to the field with their famous "Deep Space Nine" lineup while the Gumbys just horse played around seeming to wander the field aimlessly.
Later innings featured several high scoring frames prompting the Pokeys
Charlie "Big Slugger" Clark to extort – "We Injured Da Ball."
Fans exiting the ballpark post game were heard chanting
"We want a pitcher not a belly itcher!"
Losing Gumbys pitcher Gary West grumbled
"Our fans are just a bunch of Wild Irresponsible Drunken Buffoons"
adding plenty of fuel to the fire for the next Gumby/Pokey game in 2020.