by Chris Wissmann
Our man in C'dale
Harder economic times than usual have struck Carbondale, and legendary institutions on the Strip like Gatsby's (where the great Minnesota Fats used to stop in and hustle college students at pool) were forced to close.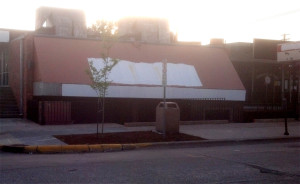 The sun goes down on the building that once housed
the now-defunct Gatsby's nightclub.
We certainly hope you're already getting excited about 2015 and WIDB reunion XLV.
Is there a better time and place than the reunion to reconnect with the people and places around which we have found such a special bond through WIDB?
Reunion highlights always include the gorgeous setting of Giant City State Park and a return trip to the studios of the radio station we all called our second home (or even our primary residence) when pretending to study at SIU, plus the moderately dignified banquet and the bacchanal tides washing through the pool party (remember: Don't fez the pool— it will turn black)… and, of course, the climactic call-in show.
As for Carbondale, ground zero for so many of your formative adult experiences (or, in my case, the entrenchment of perpetual late-period adolescence), well, the times they are a-changin'. I live here, so sometimes my perspective gets a little cramped, and Forest for the Trees Syndrome kicks in. But I don't know how to avoid invoking the ancient Chinese curse when I write that interesting times abound in Carbondale.
During the last few weeks, in a surprise move, Mayor Joel Fritzler, also an SIU employee, resigned to take a job at a university in Arizona. City councilman Don Monty will succeed him. Corene McDaniel, who stepped down from the council in May 2013 after serving twelve years on the council, will fill out Monty's council term.
Let's not candycoat things where SIU is concerned. The city has a lot of challenges ahead because enrollment at SIU has fallen like a stone through the Kingdom of Hades and is hurtling toward the pits of Tartarus. We have not had so few students at SIU since 1965— well before Lyndon Johnson began to escalate the Vietnam War. Previous SIU administrations, perhaps seeking a smaller and more controllable student population in their efforts to quash the university's party-school image, intentionally caused the initial enrollment declines. Unfortunately, they've sent enrollment into a death spiral, and the most recent administration has found no successful way to change course.
After Illinois Gov. Pat Quinn exercised his legendary capacity for incompetence, he managed to replace SIU president Glenn Poshard's staunchest allies on the university's Board of Trustees (a long and fascinating story for another day). Poshard appeared to see the writing on the wall and tendered his resignation, effective this summer. In mid-February, the Trustees appointed former SIU professor Randy Dunn to succeed Poshard. Expect many other personnel changes in the upper administration by the time of the reunion.
The truth is, the whole enrollment situation is damned baffling, because SIU remains a terrific university in many respects, and it's still set in the state's most gorgeous region. The university as a whole may appear to have drifted from its roots as a blue-collar school that stressed hands-on learning into an institution devoted more to research, but that's neither wholly true, nor, to the extent it is, has it necessarily fallen into conflict with SIU's historic emphasis.
In the Radio/Television Department, for example (now Radio, Television, and Digital Media, by the way), SIU students provide regular sports updates on WSIU-FM and they run theSunrise Sports radio-magazine program. They produce and work on alt.news, a WSIU-TV program that regularly wins regional Emmys against competition from commercial broadcasters in Saint Louis and Chicago. They also do most of the work on Studio A, an excellent WSIU-TV program that features local and regional musicians in live studio performances. (Yes, Carbondalestill boasts the best and, per capita, largest music scene in the nation!)
By the way, a WIDB alum, Jeff Williams, manages WSIU-FM, and the entire WSIU operation is overseen by another 'IDB alum, general manager Greg Petrowich.
And, of course, WIDB keeps on keepin' on. The station, as always, faces challenges with funding. Last year student government punished WIDB for years of fiscal responsibility. The station had slowly built up a reserve fund to pay for internet-streaming royalties and as an insurance policy against the kind of electric surge that nearly destroyed the station in the late 1990s. Student government saw those reserve funds and decided that WIDB didn't need any appropriations for operations until it spent the savings.
In addition, fewer students in the SIU body mean fewer people paying fees that could go to WIDB or other organizations, so competition for a shrinking pool of funds grows ever more fierce. Furthermore, fewer students mean a smaller pool from which WIDB can draw its staff, creating serious membership challenges.
All that said, the quality of the WIDB experience remains undiminished. Students continue to staff and program the station with cutting-edge music and specialty shows, and the sports staff in particular has sparkled during recent years. The station remains independent of the Radio/Television Department and still gives students the opportunity to learn on their own, even through mistakes— though R/T professors have grown largely sympathetic to the spirit of the station and provide help whenever asked. Currently, at least one professor is pushing the staff to submit airchecks, produced spots, news- and sportscasts, and other WIDB work for regional and national competitions. He's confident that WIDB staff will sweep these contests if only they'll enter— and he's certainly right.
Indeed, WIDB's Marketing and Promotions Director, Sarah Maher, was recently named a finalist for the Intercollegiate Broadcasting System's Student Station Management Award for Best Promotion Director. Congratulations to Sarah and the station!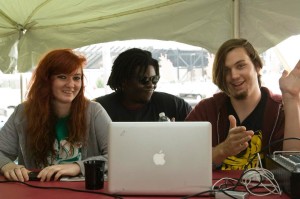 L-R, Marketing/Promotions Director-Sarah Maher,
Metal Director-Malcolm Turner, General Manager-Mike Maxwell
So, as an aside, if I could make a pitch to those of you with children, I somewhat but not entirely selfishly ask that you consider letting them know about the advantages that can come from attending SIU. And maybe then you can find excuses for coming down to visit WIDB far more often than every five years!
But until next time, that's where things stand down here, at least from my perspective. More to come as the reunion approaches.