By Gary Goldblatt
It was Monday March 6, 1972 at 10 am. I had just finished the morning show (as board operator for Robbie Davis, jock), and I was fooling around in production. No one was in the station except me and Sam Glick (comboing the 10-1 shift).
The phone rang, and I answered. It was Dave Silver, WIDB engineer, who lived in Wright. He was out of breath, trying to tell me something. Something about the crane. "The crane fell. The crane..the crane…" Dave kept saying, trying to breathe. I tried to calm him down. "Dave, talk slower. Now, what happened." Finally, after a few breaths he said, "You know the humanities (later Fahner) building? Well the crane there just fell down, and students are trapped underneath!" I said, "you mean NOW? Just a minute ago?" He replied, "yeah, and I ran into the center to call you."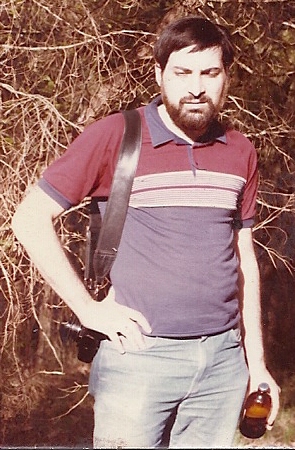 I still didn't believe him. "You mean the crane just fell, a few minutes ago, and people are trapped underneath, right now?" He said "yeah."
Ever the newsman, I said "We've got to go on the air live with a news bulletin! Stand by and I'll go tell Sam." But Dave refused to go on the air live. I had known Dave since high school to be stubborn and intractable. It was no good to argue.
But this was an important news story to get on the air right away. The building was in the middle of campus. While under construction, it had a passage way thru its center, so students could walk from the Davis/Parkinson area to the library. The crane fell across the passage way and the crane top crushed a crowd of students on the library side. And we had a man on the scene with an eyewitness report who wouldn't go on the air to tell what happened!
I was a freshman, had just turned 18 the week before, and was in my fifth month at WIDB. There was no time to call for backup or help. I had to think of something—fast.
I figured that Dave didn't want to go live because he was worried about sounding silly or stupid. So I said, "OK Dave, we won't go live, but what if I RECORD your report, and, if you say it's OK, I'll air it. I could even play it back for you over the phone after we record." He agreed.
It was aired as a news bulletin at 10:09 am, less than ten minutes after it happened. This was a source of pride for the news department, since WSIU had nothing about it on its noon news that day, and WBBM and WGN called WIDB for updates.
I had never been thru this (sudden disaster/developing story) before. I just operated on instinct. I sent Dave back to the scene to find out what was happening and to find another eyewitness who would come to the phone and give a report. I followed my WIDB news training and called SIU news service to see what they had. Pete Brown gave me a report that at least one student was killed, more injured. Dave called again, ready for another report.
I recorded all of this. Then, Dave said he found an eyewitness.
His name was Henry Nowicki, from Chicago. I called him in his dorm room, and he delivered a chilling report, ending with "I could see the blood running down the sidewalk."
I called Physical Plant and they told me which buildings had no power (after all, students needed to know).
I recorded all of this, too.
Phil Kilne, the newsman on duty came in. It was his job to prepare the 10:45 newscast.
We discussed and agreed that I would stay on this story, and I would take the first two minutes of the newscast.
At this time, 10:30 am, the Student Center hallways were rapidly filling with students unable to use the accident site passageway. WIDB had been heard in the Student Center for only a few weeks. At that time, there was a large "Magnolia Lounge" on the first floor, across from the info desk (where the bookstore is now). The Magnolia Lounge featured couches, fireplaces, and WIDB at a louder volume than in hallways. Dave was there, and he reported everyone was waiting for another report on the crane crash from WIDB.
The 10:45 newscast began. Dave reported a complete hush over the Magnolia Lounge, as everyone strained to hear.
I featured at least four recorded excerpts. The dead student turned out to be Michael G. Hayes, of Schaumburg, who lived in my dorm, on my floor!
After the newscast was over, other radio stations started calling. I talked to Jeff Hendrix at WLS—he asked for a feed. WGN called. We sent them feeds. Henry Nowicki's mother in Chicago got a call from someone who told her that it was her son who was killed. It turned out that WGN aired his report (which came from WIDB) and the person only heard the end.
Cliff Albert came in and he had been at the scene with a cassette recorder. He did his own report and then started editing his interviews, which he also aired. I let him take over the story because I had to go to class (class?). It was Monday.
Cliff and I produced a 30 minute special on the crane crash aired the following Monday. I don't remember what happened to Dave that day (he probably had class, too) but he did a good job under difficult circumstances because it had to be done and there was no one else that could do it. Jim Rohr shot a few frames of 8mm film of the crane that day.
Brief video of collapsed crane. March 6, 1972.
For years, people quoted Dave's colorful language "It came swarming down like a giant erector set…apparently!"
Pretty exciting stuff for a geeky freshman barely 18.