What it was like if you weren't there or (for some reason) don't remember too well…

Fryday Afternoon Registration at Giant City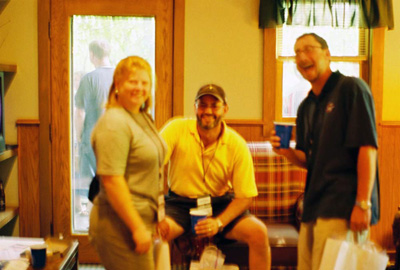 Handwritten duct-taped signs in the GC parking lot directed hyroglyphic-literate registrants to Cabin 13. Station 1 was the front porch, where your reunion financial status was verified. Station 2 was in the living room, where you received your credential neckwear/name tag after executing the so-called "iron-clad agreement." Station 3 was out on the balcony/deck, where you received your fresh-blendered frozen pineapple surprise, to enjoy on the deck amid the Shawnee Forest and Giant City. This surprise allowed for de-acceleration and gear shifting before Station 4, where you got your cabin key, T-shirt, maps, event schedule, TV Guide, and everything else.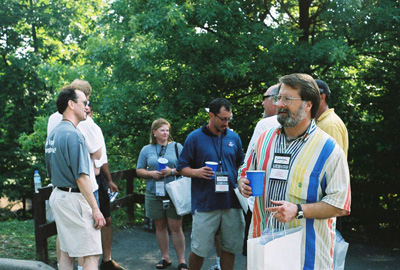 Remember registration at SIU? This is what registration should have been. Some set up chairs in front of Cabin 13 just to watch folks going in and coming out, pineapple surprise in hand, in a reunion-ready state. It's one way to make sure you don't miss anyone.
Fryday evening at Pinch Penny Pub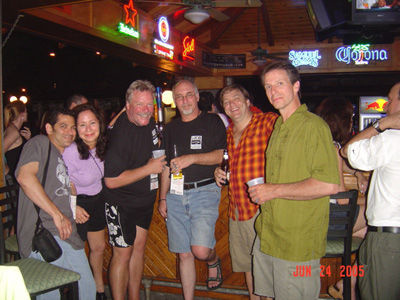 PPP opened in 1972. WIDB used to do live music remotes there. PPP was the closest bar to the station when it was in Wright. But now PPP is different, bigger, with a larger outdoor area that's not crowded during summer when we'll be there.
It's still next to Lewis Park, and the big parking lot is still there, but there are more businesses (on both sides of Grand) and Lewis Park is now fenced. We start at 8pm (early by C'dale standards, remember?) and it is spacious and pleasant, with alarge open outdoor beer garden with bar stations,
chairs, music stage, and volleyball. Reunioners flood in, easily identifiable by neckwear credential/name tag, occasionally noticing the music/voice mix meticulously executed by Dr. Peace. The initial excitement of re-encountering one old friend after another and having nothing but drinking and/or socializing on the agenda leads to the critical mass that kicks things off. Many revert to their student C'dale mentality, where few limits applied, and for some, Fryday night is a supernova experience. Others realize that Saturday is a big day, starts early, runs late, so the post-C'dale learned skill of pacing comes in handy on Friday, especially after traveling all day at the end of a long week.
Everyone helps each other with rides back to GC. The Call In Show starting at 1am is motivator for some.
Saturday Morning
Saturday of reunion must rank up with most fully-scheduled event days possible. It starts at 7am, sometimes there are two or three events at the same time, something for everyone, even children, with food, beer, radio stuff, activities, music, entertainment, and even scheduled resting time.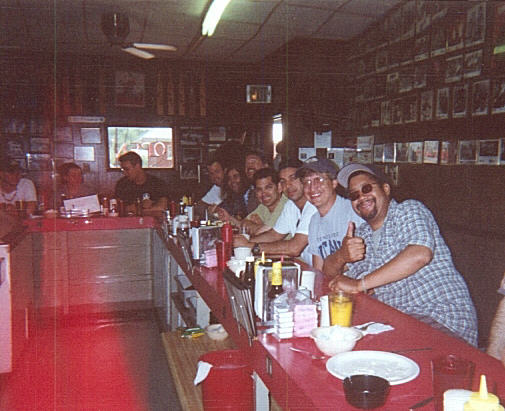 The schedule says meet at Mary Lou's at 7am. I have been there at 7:08 am and was the only reunioner there (and I got free biscuits & gravy as a result). The whole idea is to fortify (with something that is not from a cup, can or ashtray) before the day's challenges unfold. So, if you were on the supernova program Fryday, maybe Mary Lou's doesn't happen for you until 11 am. But Mary Lou's will still be there and – if the supply holds -there will be free biscuits & gravy.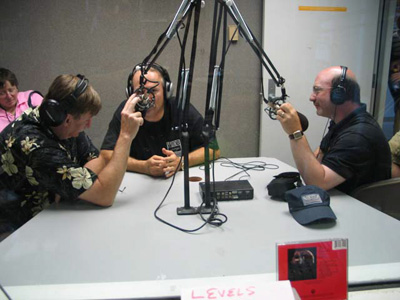 If you are able to get in and out of ML's by 8 am, choices await. If you want to go "on" at WIDB at the Open House, it starts at 8:30, and if you're there then you're "on" right away—no waiting! If you like golf without waiting, the Smokie Links Open tees off at Midland Hills about the same time—no waiting! If you don't make the station, the recording of who was "on" will be played at the picnic. Some can make all three events by getting to ML's early, being early at the station and joining golf in progress.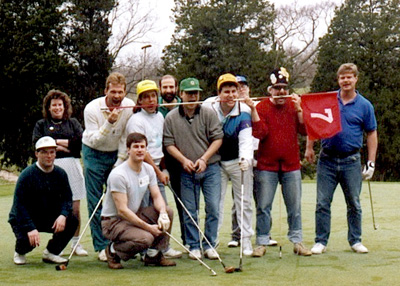 Some wonder about this golf business. Midland Hills (near Makanda) is a 9-hole course built in 1921 and is the oldest course in Southern Illinois. It features the famous 814 yard 4th hole, over three creeks to a severe postage-stamp-sized green. This course is unusual historically. Many of us remember the vending machines that dispensed Old Style cans for a quarter, the bandanna-clad dogs who would seek and locate balls, and the broken-down tractor in the 4th fairway. Golf usually finishes by 10:30 or so. The station Open House finishes at 11. Then it's time for the picnic.
Notice here that events that require driving around on Saturday are all in the morning, when maximum chances of sobriety should occur. Once the picnic starts at 11:30am, everything thereafter is at Giant City. If you have a cabin, no driving is necessary until Sunday afternoon at the earliest.
Saturday Afternoon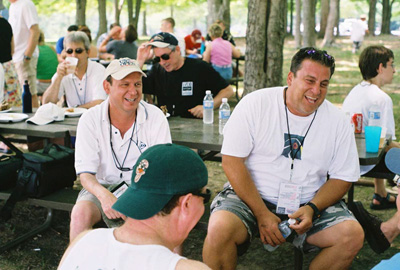 The picnic happens just down the road from the cabins, at a large grassy area with tables, shade, parking, water, softball field, and even achildren's playground. People slowly trickle in, some in cars, some on foot. Like PPP the night before, there are many exuberant cries of recognition and re-connection. Many head for the shade, beer in hand (from ice-cold kegs provided and delivered by GC Lodge), but others head to the softball fields. The aircheck from that morning is playing on the GC Radio station, heard on receivers all over the picnic area.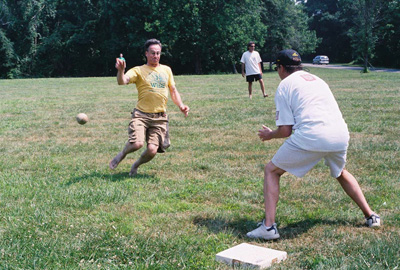 A spirited 16" softball game features the "hidden ball trick" successfully used by John Martin, 3rd Base, and a "called shot" home run by (who else?) Dr. Peace. A giant spread featuring not only burgers & dogs, but also barbeque and many salads fortified the troops. And the ice-cold kegs just kept on coming. But by 3pm, shadows lengthened, and it was getting close to nap time. The grounds were policed, and it was free time.
Saturday Evening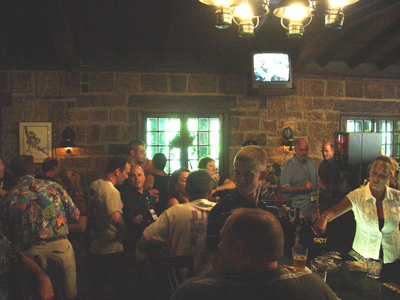 We were concerned that the main bar at GC Lodge might not possess adequate reserves for the onslaught we call "cocktail hour." Despite the Fryday night supernova less than 24 hours past, even though numerous kegs were drained at the picnic, and everyone was taxed from sun and heat, enthusiasm and demand arrived unretarded with hordes of reunioners precisely at the stroke of 5:30. This was the most clothed people were all day. At more than one point, the noise level and crowd was reminiscent of an all-you-can-drink Lewis Park event of old. One difference was that everyone had a smile or was laughing. The bar did run out of almost everything, but luckily not until it was dinner time.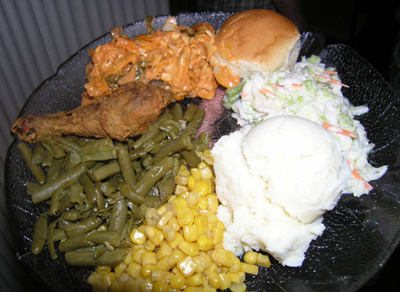 The dinner was the single event that everyone attended at the same time. In a private, paneled room in the GC Lodge with long tables, the panoramic view of the Shawnee Forest enthralled diners. An extensive selection of roast beef, fried chicken, fish, and pasta, vegetables, salad, potatoes, homemade rolls, and cobbler with ice cream for dessert satisfied even the most prudent eaters. Airchecks, music, brief remarks, and a special six minute video of WIDB photos and highlights wound everyone up for the next event. So, to the music of "Radio, Radio" by Elvis Costello, the crowd streamed out of the GC lodge —to the pool.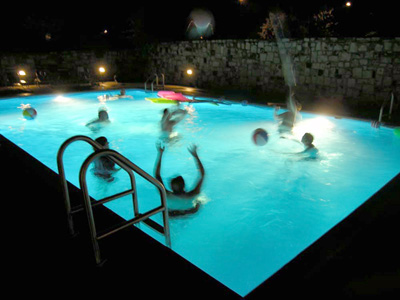 For many, the pool party is the signature event of the reunion. By reunion time (late June), evenings are warm. Sunset is about 8:30; many watched it from the tower and then dove into the pool. The pool has under and above water lights; Kathleen Linton added more and other creative decorations. Vic mixed the music with familiar voices extending greetings. GC lodge brought over the ice-cold beer kegs, wine, and snax. Imagine immersion in the pool, stars overhead, music playing one of your old WIDB songs, favorite libations kicking in, surrounded by friends, and YOU ARE THERE! The pool party continues until long after midnight.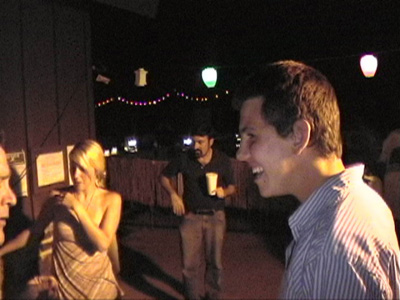 As people transition away from the pool, it seems that there is a party in or around every cabin. No one cares who knows whom—we're all in this together. People mill around, to & fro until the sky gets lighter. Sunday morning sunrise—at 5am, 23 hours after getting up on Saturday. Have we fully scheduled our 23 hours? (and wasn't nap time welcome?)
Sunday Morning
As we age, we appreciate the value of fortification. 9:30 GC Lodge buffet breakfast with last call at 10:30 motivates a surprising percentage to fortify before departing or continuing, despite little sleep and heavy taxation. Some gotta go, some hang Sunday afternoon & go, some stay for a day or two longer. Those hungry for Cajun seafood trip to the Cape to visit Broussard's. On the way back, stop at Misunderstudio in Murphysboro for the "denouement" party, featuring multiple live bands.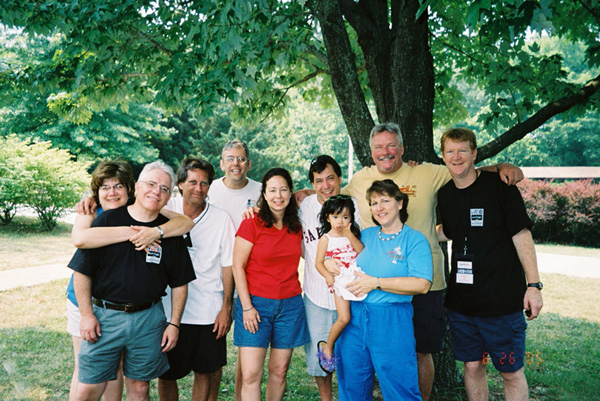 Beyond Sunday
The tiredness fades but the feeling of exiliration remains. The phrases like "I haven't felt like that for a long time." And "When are we doing this again?" keep resurfacing.