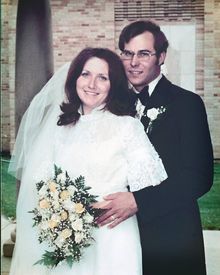 (Martha) Susie Meyers Bredemann and Ray Bredemann have died, Sue in 2015 and Ray in 2011.
At WIDB, Sue was on-air as "Spacey Stacey Brennan."She was the first female to get a regular daytime jock shift. Listen to this excerpt from her very first show.
Sue also was the first female to do "Pillowtalk," then a special Friday and Saturday night program.
At WIDB, Ray was "Ray Allen" and did newscasts.  He spent far more time at WSIU TV, as an "in the field" film producer, on-camera, and writing.  He went on to an illustrious career as a reporter, producer, and Assignment Editor in TV news departments. KDUB Dubuque IA, WHIO Peoria IL, WRTV Indianapolis IN.
Ray and Sue met during the time she started at WIDB in 1970.  Ray had been at WIDB since the beginning, as he was at WBHR (Boomer Hall Pirate station).  He grew up on Chicago's North Side.  Sue was born in Hurst, Illinois (near DuQuoin) but moved up to Lansing, Il, and attended Thornton Fractional South, where her locker was near Frank Mazzocco, future WIDB News Director.
Ray was working at Trueblood Food Service when Sue noticed him, according to Debbie Mazzocco (Frank's wife), who attended Junior High with Sue.
Perhaps not consciously so, Sue broke ground for women at WIDB.  Before starting her regular top-40 shift, Sue, along with Kay Kessler (air name "Jennifer"), took over Dan Mordini's show he created, "Pillowtalk." Dan was leaving at the end of December, 1970.  He reports that Sue was coming in during his shows (on Friday and Saturday nights starting at 1 am) and asking if she could engineer (board-op) for him.  This led to her "on-air audition" in December.
Dan had to convince then-WIDB Operations Director Tom Scheithe (who at that time was affectionately known as "Hatchet Man") to let Sue take over the show.  Dan reports that Tom was "reluctant." But when Dan pointed out that it was essentially a "graveyard shift" and asked who else he could get, Tom relented.
Only a short time later, Tom said it was "smart" to have women doing Pillowtalk, according to Pat Niekamp, (air name "Patti J"), who took over Sue's Pillowtalk shift when Sue left in late 1971.
Sue and Ray left WIDB in 1971. They were married in 1973, lived in Indianapolis for many years, and had two children, Amanda and Steve.
One of the last times we saw them in C'dale was in 1985.  Although Ray is not in this, here is a video excerpt of Susie dancing with Woody at the 1985 Reunion Pool party.